IN4315 - Software Architecture
Presentation day
It's your time to shine! Your team will:
Give a 10 minutes presentation. Your presentation should clearly explain the architecture of the software you analyzed. We know 10 minutes is not much, so focus on what's essential.
Answer 10 minutes of questions from us and from the audience.
Send us the slides before the presentation (9am the latest).
As an expectator, you will:
Watch and learn about the architectures of the different systems we studied this year.
Give constructive feedback to that team. Remember, this can give you extra individual points.
You are allowed to switch rooms during the breaks.
At the end of the day, you are all invited the celebrate the end of this course at /pub!
The schedule of the presentation is as follows. The event will be held at the Civil Engineering & Geosciences building (Building 23), rooms 1.96 (room 1 in the schedule) and 1.98 (room 2 in the schedule).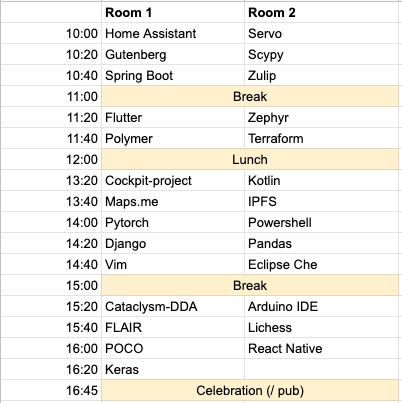 Everyone is required to attend the final presentations days. If you have a special reason not to, please e-mail Maurício and Arie.